Boondall Early Childhood Centre shares three fabulous ways to reuse a milk bottle!!
Two of our favourite things… Easter and upcycling! At Boondall Early Childhood Centre, we work hard to use the three R's – reduce, reuse and recycle. So, when we found a craft activity to enjoy with little impact on the planet, we knew we had to share it with our wonderful families.
You can make three simple baskets so everyone can have their own – bunny, chicken or make your own design with a beaded handle.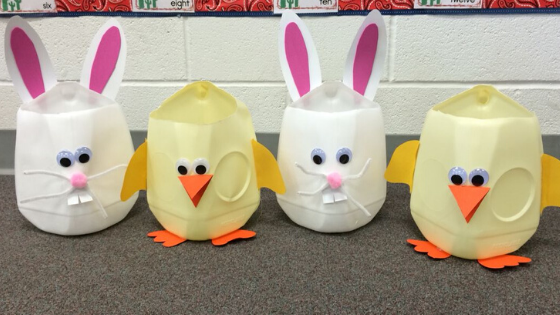 What you'll need:
Clean milk bottle which should be thoroughly washed and dried
A range of coloured markers
Collage materials such as pages from glossy magazines, fabric scraps etc.
Googly eyes (you can use a marker or paper cut-outs too)
Stickers or whatever decoration materials you have at home
Sharp scissors (for the adult to use to cut the bottle)
Glue
If you are making the beaded basket:
Pipe cleaners and beads or ribbons and string
Instructions:
Cover your table with a sheet/tablecloth to protect it from damage
Draw the outline – the adult will need to cut our carefully ensuring there are no sharp points or edges
Let your child's creativity flow
Once dried … your child can use this to leave somewhere special for the Easter bunny or for a super fun Easter egg hunt on Easter Day!!
For more ideas on fun activities to do with your child, or for more information on what opportunities there are for your child at our centre, contact us at Boondall Early Childhood Centre today.